Description
Parkmate's RVM-073A is an OEM style rear view mirror with an embedded super wide 7.3" LCD display. It is designed to replace your factory windscreen mounted rear view mirror. Camera images are displayed in crystal clear quality and activates automatically upon selection of reverse gear. When combined with up to 3 cameras (rear, left/right side), the monitor can reveal multiple blind spots you may not otherwise see – perfect for cars, wide vehicles and caravans. Includes automatic brightness control and anti-glare for bright sunny days. Includes a universal mounting bracket.
FEATURES:
EMBEDDED 16:5 7.3" DISPLAY
CRYSTAL CLEAR IMAGES ARE VIEWABLE THROUGH THE 7.3" SUPER WIDE SCREEN HIGH RESOLUTION MONITOR EMBEDDED IN THE REAR VISION MIRROR. SEAMLESSLY INTEGRATES WITH YOUR VEHICLE BY REPLACING YOUR CURRENT OEM WINDSCREEN MOUNTED REAR VISION MIRROR.

THREE VIDEO INPUTS
WITH THE ADDITION OF A REAR MOUNTED CAMERA, YOU CAN SAFELY REVERSE YOUR VEHICLE WITH THE KNOWLEDGE OF WHAT OBSTACLES ARE BEHIND YOU. ADD A FURTHER 2 INDICATOR ACTIVATED CAMERAS ON SIDE MIRRORS FOR DISPLAY OF LEFT AND RIGHT SIDE BLIND SPOTS. (CAMERAS SOLD SEPARATELY)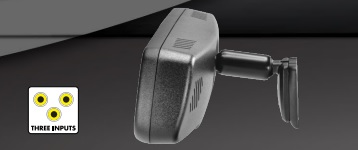 AUTO BRIGHTNESS
ON DAYS WITH HEAVY SUN GLARE OR LOW LIGHT VISIBILITY, THE REAR VIEW MIRROR MONITOR WILL AUTOMATICALLY ADJUST
TO THE RELEVANT BRIGHTNESS LEVEL FOR OPTIMAL VIEWING, INCREASING YOUR IMAGE VIEWING CAPABILITY AND DRIVING
SAFETY.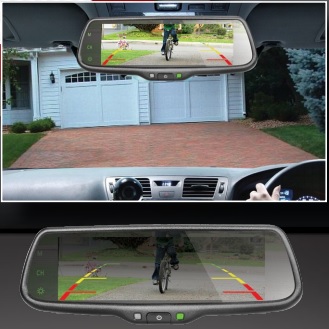 SPECIFICATIONS:
• 7.3" HIGH RESOLUTION 16:5 LCD SCREEN
• ANTI-GLARE | HIGH REFLECTIVE MIRROR
• DESIGNED TO REPLACE FACTORY REAR VIEW MIRROR
• AUTO DISPLAY ACTIVATION UPON REVERSE GEAR ENGAGEMENT
• THREE VIDEO INPUTS
• INTEGRATED REVERSING GRID LINES
• GENERIC BRACKET INCLUDED
• AUTO SWITCHING PAL | NTSC
• AUTO BRIGHTNESS
• VEHICLE SPECIFIC BRACKETS AVAILABLE